Shenandoah Valley Chess Club
Shenandoah Valley Chess Club
Shenandoah Valley Chess News - Summer 2018
Shenandoah Valley Chess News
Summer 2018
"The game of chess is not merely an idle amusement. Several very valuable qualities of the mind, useful in the course of human life, are to be acquired or strengthened by it..."
~

Benjamin Franklin

Here is the latest Chess News in the Valley for 2018!
---
Shenandoah Valley Chess Spring 2018 Recap
Wednesday Chess at Handley Library is on summer break until late August.

Stephens City Club is still meeting every Saturday at Bowman Library - 10am.

Below is a preview of Fall events.

But first, a quick look at our incredible first half of 2018: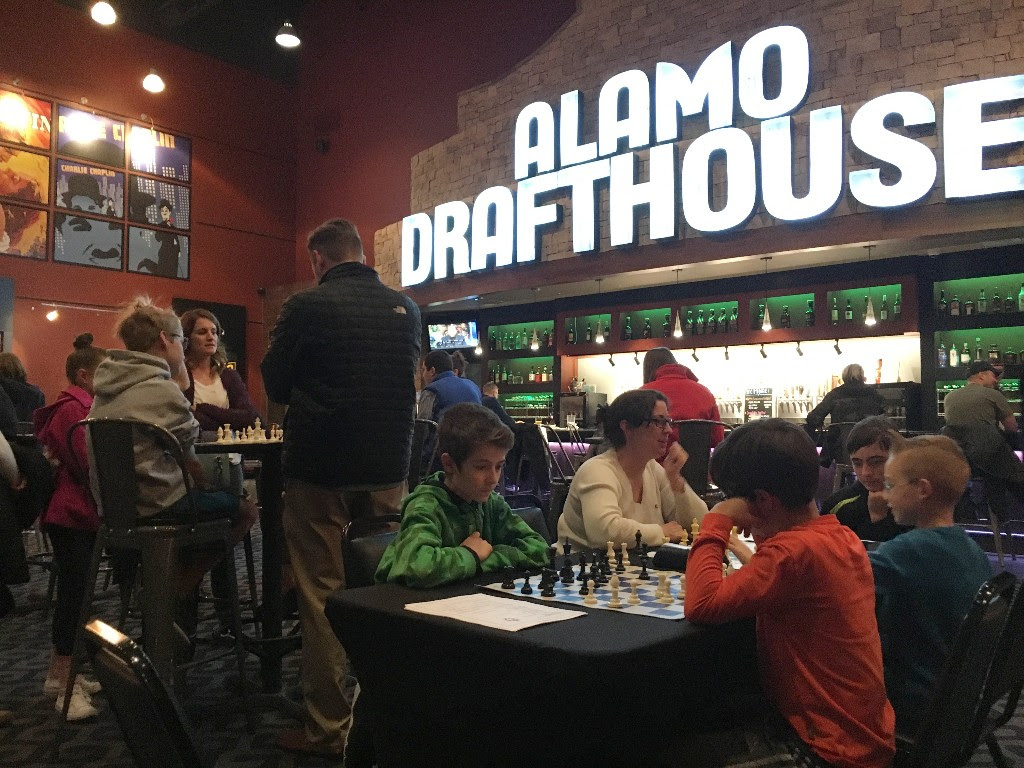 Chess Night Fundraiser at The Alamo Drafthouse
January 2018



Shenandoah Valley Chess Winter Open
Holiday Inn Winchester - January 2018



SVCC Scholastic Open at Handley Library - February 2018



Apple Blossom Chess Tournament at Godfrey Miller Home
April 2018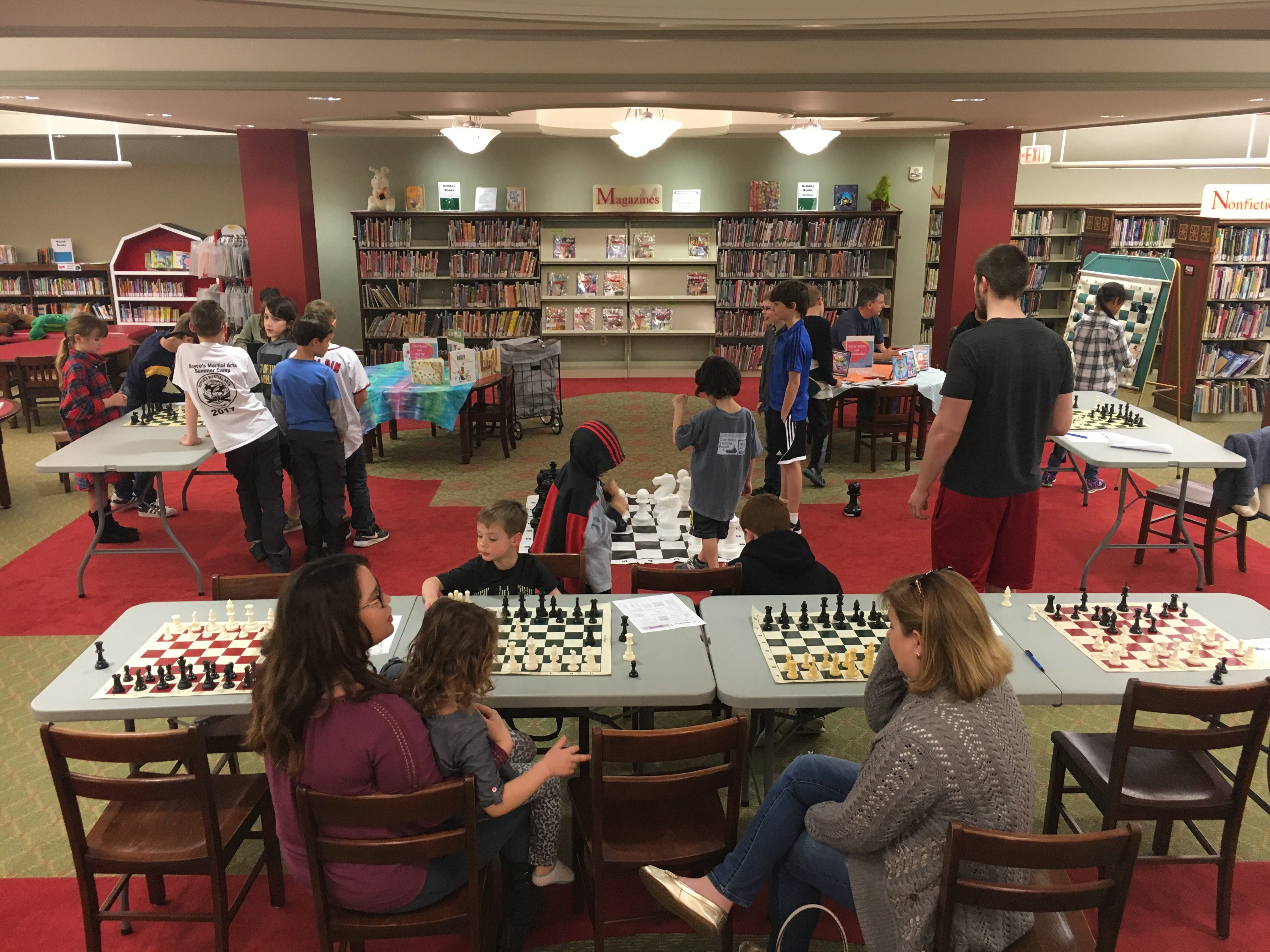 Winchester Star wrote a wonderful article about the growing excitement for Chess in the Valley and our involvement with Newtown Heritage Fest in May!

SVCC would like to sincerely thank the following organizations who are helping the club to prosper:

The Handley and Bowman Libraries - Kiwanis Club of Winchester, Virginia - Incredible Flying Objects - Alamo Drafthouse Winchester - Winchester Star - 92.5 FM WINC - - Full Circle Marketing - Godfrey Miller Home - Shenandoah Apple Blossom Festival - Newtown Heritage Festival - Wilkins Insurance Agency - Signet Marketing - - Powhatan School - Top of Virginia Regional Chamber - Shenandoah Valley Discovery Museum - - Holiday Inn Winchester - Lord Fairfax Community College Chess Club - Virginia Chess Federation - United States Chess Federation
We also wish to express our deep gratitude to the parents and chess players who are giving considerable time, energy, and support this year.

Thank you all!

---
Preview of Fall Events

Scholastic Fall Tournament
Saturday, September 15
Bowman Library
9:30 am - 2:00 pm

Registration: 9:30 AM
Round 1: 10:00 AM

Cost: FREE

Location: Bowman Library, Stephens City, Virginia

Sections: This tournament is organized into multiple sections per grade and skill level (K-2 / 3-5 / 6-8 / 9-12 ). Medals and trophies for winners and special categories.

Registration: Online Pre-registration via EventBrite begins August 18. Space limited and pre-registration is encouraged. Walk-ins are welcome.

General Information: The Scholastic tournament is sponsored by Bowman Library. Chess sets, boards, and scoresheets are provided. Chess coaches will be onsite to guide first timers through tournament process and provide analysis in-between rounds.

For more information, contact Tournament Director, David Hubbard at This email address is being protected from spambots. You need JavaScript enabled to view it.

---
Look for Shenandoah Valley tournament announcements in U.S. Chess Tournament Listings and upcoming Chess Life magazines!

2018 National Chess Day Tournament
Saturday, October 13
Lord Fairfax Community College
Middletown, Virginia
8:30 am - 4:00 pm
OCTOBER 13, 2018 Shenandoah Valley National Chess Day Open
4SS, G/45 d0. Lord Fairfax Community College - Corron Building (Exit 302 RT 81), 173 Skirmisher Lane, Middletown, VA 22645. Sections: Open, U1500, U1000, Scholastic K-8 (G/30 d0). Prizes: Open $150 $75 $50 - U1500 $75, $50, $25 - U1000, Scholastic Awarded Trophies & Medals. Reg: 8:30 to 9:00. Round times: 9:15, 11:00, 1:30, then ASAP. Fees: $25 Open, $20 U1500, U1000, $15 Scholastic before 10/11 via PayPal. Add $5 Site entries. Max 1/2 half bye. Must be announced by Rd. 2. Entries/Contact: http://www.winchesterchess.com, David Hubbard, winchesterchess@gmail.com, 973-280-7189. Online reg. at http://events.winchesterchess.com/register

We are very happy to announce National Chess Day Tournament will be hosted in partnership with Lord Fairfax Community College - Middletown Campus!

This USCF rated tournament features multiple sections to accommodate a wide range of players and skill levels. Prizes and food will be provided. Sponsorships available.

Mark your calendars and standby for further details on the website.

We would like to thank Lord Fairfax Community College for the opportunity to collaborate on what promises to be a very fun event!
---
SVCC - Seeing Multiple Moves Ahead
Fall 2018 is a big deal! In addition to many advances for chess in America and worldwide, the Shenandoah Valley Chess Club celebrate 5 years as a chess community!

We will hold our 5-year celebration at Handley Library on Wednesday, September 5th, 4:30 to 7:30 pm.

We are also happy to announce that in Year 5, we are ready to pursue 501(C)3 tax-exempt status.

The organization and coordination to reach this point is a community achievement. Your advice, guidance, patience, and support - from the very start - is the bedrock of our success.

We again thank you parents and players who continually donated time, ideas, and expertise to the Shenandoah Valley Chess program!
---
Regular Chess Meetings for Fall 2018
The Stephens City Chess Club meets every Saturday at Bowman Library, 10 am.
The Shenandoah Valley Chess Club returns to Handley Library with an Open House Kickoff, Wednesday, August 22 at 6:00 pm.

ChessKid Scholastic Program and regular Wednesday meetings resume at Handley Library, August 29, 4:30 - 7:30 pm.


As always, we thank you for your continued support and participation with the Shenandoah Valley Chess Club!

Have a great summer and good luck with your games!

With Gratitude,

David Hubbard
Shenandoah Valley
Chess Club - President
Winchester, Virginia

http://www.winchesterchess.com